Container gardening has been a staple of gardening for many years. Many gardeners will literally plant into anything they find, such as shoes, buckets, cowboy hats- I've been known to plant into old baseball gloves. Whatever container you use, remember that there a few "rules" to follow!
Container gardening will only be as successful as the soil media you use. When choosing soil, it should be a high-quality soilless media that has a good ratio of peat, vermiculite, and perlite. We plant all of our containers in Premier Pro Mix. Never select soils that have high water retention or large amounts of fertilizer. You want to fertilize yourself and add your own soil retention crystals based on the plants you are growing!
While many new gardeners may want to pick plants based on their attraction, selecting plants should be done carefully. First of all, consider the light exposure your container will receive. Six hours or more of direct sunlight is considered full sun. Next, think about how often you will be able to water. Plants that need lots of water should be planted with others that have the same water requirements.
Where will your planter be placed? Along a building or in the middle of your patio? As you build your container, the placement of plants will be determined by where your planter will be located. Also, decide on the color schemes you would like to use.
It's finally time to select your plants! Keep three words in mind: Thriller, Filler and Spiller. These words describe exactly what kinds of plants you should be looking for. Thrillers are the plants you want to stand out, possibly a grass or Cordyline – whatever you think should be the showstopper in your container. Fillers are the plants that fill in the empty spots. Petunias, Calibrachoa, Verbena are all great choices for sun containers. Impatiens, Begonias and Hypoestes are great for shade. The spiller plants are those that will spill over the side of the container. Sweet Potato Vine, Dorotheanthus, and Vinca are extremely popular, but take a look at Mecardonia or the various varieties of Lysimachia for something different.
At the time of planting, it's a great time to add a granular fertilizer in the soil. Our favorite is Fertilome Start and Grow. Follow the directions for the types of plants and size of container used. Water the soil before planting and again after planting. Place your plants in the arrangement you want them and go ahead and plant! As your plants grow, make sure to water them according to their specific needs. If the plants look like they need a fertilizer boost, use a liquid fertilizer once a month. We prefer Fertilome or Jack's brand water-soluble fertilizers.
Need a little inspiration, here are a few ideas!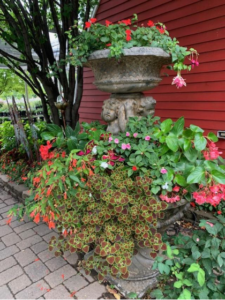 Plants used: 
Bossa Nova Begonia
Dragonwing Begonia
Wedding Train Coleus
Impatiens
Fuchsia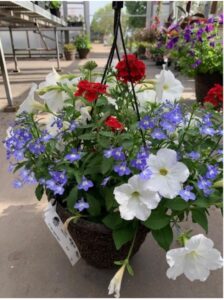 Plants used: 
Verbena Lascar Vampire
Wave Petunia White
Lobelia Techno Sky Blue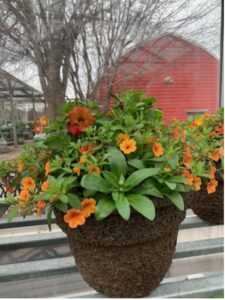 Plants used: 
Petchoa Cinnamon
Calibrachoa Calli Orange
Calendula Lady Godiva Gold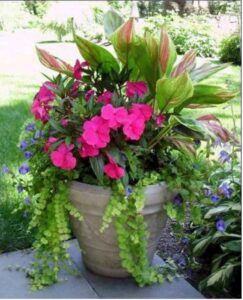 Plants used: 
SunPatien Neon Rose
Torenia Wave Blue
Lysimachia Goldi
Canna