Make this cute & safe treat for the kids this Halloween! Most of the items you can find around your house.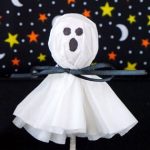 We used three coffee filters, ribbon, permanent marker and a black marker to create our lollipop ghosts. You can also experiment with gift wrapping paper, napkins, tissues, colorful yarn, or whatever else you can imagine.
Depending on the size of the lollipop and materials you use, you may need to trim the bottom of the paper so you can still see the stick. Send us a picture of your finished project and you could be featured on our Facebook page! Have fun and be safe this Halloween!
Be sure to stop into our gift shop for other cute holiday ideas!