Here's a simple project that requires little effort, but maximizes color, space, and use of old tin cans. This project is great for small spaces such as an apartment or a patio.
The item list is short but the project will require a little bit of strength. The first thing that must be decided is what the cans will be attached to. We had old pallets laying around the store, so we decided to paint one up and use that, but a chain link fence would also work great. The other decisions will be choice of color, size and number of cans. That's all!
After all the supplies are collected, it is time to get everything ready. Since we used a wood pallet, we washed it up and removed any random nails or screws. If you choose to do this, we recommend sanding down any rough edges as well. As the wood was drying, we turned our attention to the cans. The labels should be taken off and any of the sharp edges should be sanded to minimize injuries. You can now paint the cans any color or design you want. We tried a few different techniques, but found we liked using the spray paint the best. It dried fast and had just enough shine to it. We painted the other cans by either dipping it into the can of paint or using a brush. Then we set the cans on used old spray paint cans so any excess paint could drip off, making the cleanup nice and easy (fig 1). Allow the cans to fully dry before touching to avoid unwanted fingerprints.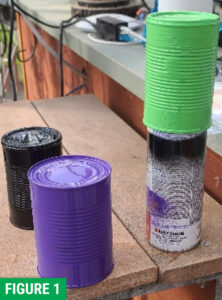 The pallet is now ready to be stained or painted. We decided to paint the horizontal planks as a rainbow to add more color to the end result. We used two different painting techniques. First we spray painted, but ran out of paint so we diverted to using the brush. We also used a piece of cardboard to protect any area that we didn't want to paint.
After allowing all the paint to dry, we decorated the cans. This can be anything you want, but we used a brush and paint markers to paint fun little patterns (fig 2). After everything is dry, you'll need to attach the cans to whatever you are wanting to hang them on. We drilled screws into each layer of our wooden pallet, then drilled holes into the cans. Finally, we made them a little larger with a screwdriver and hung them on the screws.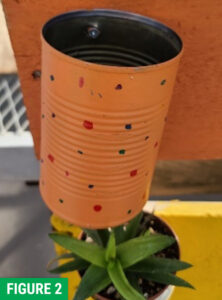 If you choose to attach your cans to a fence, we recommend using a wire. You could also use zip ties, or even a Unistrut that is used in plumbing for a secure attachment.
The finished project (fig 3) is a perfect pop of color and could make a great gift for family or friends that love gardening. With the optional removable cans, it makes it even easier to continue and add more plants later. Everyone will love this.