They may be an old-fashioned flower for some, but what's not to love about Asiatic and Oriental Lilies. They give height, texture, and dramatic color to any landscape. Plus, they don't require a ton of care!
You may be wondering what Asiatic and Oriental Lilies are and what is the difference. We use both types of lilies in similar ways, however, their size and flowering time are their two biggest differences. Using both types in landscape is often ideal since the Asiatic Lily tends to flower from mid-June through mid-July and the Oriental Lily will often flower after the Asiatic has finished. In most cases, Asiatic varieties will grow shorter than Oriental, and their flowers will typically face upward, while the Oriental will face straight out or slightly downward. All Asiatic and Oriental Lilies are grown from the bulb and may need support to hold up their heavy blooms.
We have so many favorite varieties of these lilies. Here are just a few of them.
Stargazer
Probably the most popular Oriental Lily variety used in floral bouquets and in landscape. The hot pink margin of the petal surrounds a white/yellow middle. A nicely fragrant variety.
Casa Blanca
This variety is extremely fragrant. Another variety of Oriental Lily, these pure white flowers are extremely popular in bridal bouquets and arrangements.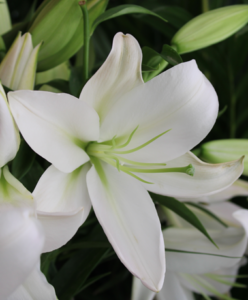 Hotel California
A beautiful salmon/yellow bloom with red-throated petals. This Oriental Lily makes a statement in the garden.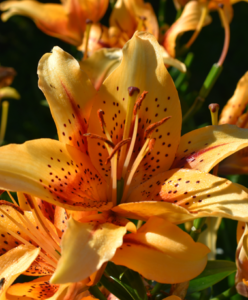 Heartstrings
A beautiful Asiatic Lily which grows to about 10-12″ tall. These flowers have a pink coloring to the outer petal and transition to a soft yellow surrounding the middle.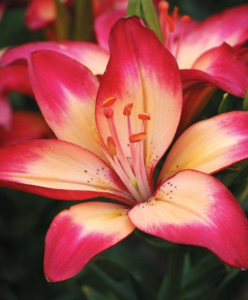 Matrix
This is a series of Asiatic Lilies that typically are red/orange colors, however you will find several colors within the series. These are considered a Dwarf Lily and make a great display in front borders.